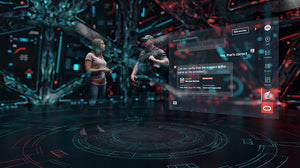 Smart Public Safety Vehicle, Including NightRide Thermal Camera, Featured at International Association of Chiefs of Police (IACP)
Dallas, TX – (October 16, 2022) – The Smart Police Car, an integrated mission-critical public safety vehicle developed by local governments and Oracle to support police and sheriffs' personnel, fire and EMS professionals, includes the NightRide Thermal camera, in addition to numerous other high-tech safety features. The futuristic vehicle was unveiled at the 2022 International Association of Chiefs of Police (IACP) annual meeting and convention.
The vehicle is designed to hasten the delivery of actionable data to police, fire and EMS officials by eliminating manual busy work and enhancing situational awareness to help these professionals make objective decisions when every second counts. The software and hardware suite includes dispatch command center, law enforcement records, and jail management software, as well as body worn devices and real-time video communication tools.
 "The Unified public safety hardware and software suite (used in the vehicle) provides first responders advanced tools to improve efficiency and real-time situational awareness that can help improve issue resolution," According to Oracle,
In July,  Burcin Kaplanoglu, Vice President, Innovation, Oracle discussed field tests using NightRide Thermal technology in the new Smart Public Safety Car:
"We were field testing a high-resolution thermal camera (NightRide) this week. A myth about them: thermal cameras allow us to see through the walls! Thermal cameras became famous in movies as a way to see through walls. Reality is we can only see if something inside the wall or concrete causes enough of a temperature difference, a thermal imager will be able to sense it on the surface of the wall. "There are many industry use cases for this type of camera: security, firefighting, building inspections, night driving, autonomous operations, scientific research and more."
"We developed NightRide cameras to prevent some of the common hazards associated with night driving, like pedestrian and bicyclist accidents, missed turns, glare from oncoming traffic and collisions with wildlife, which are significant dangers faced by our public safety officials every day of the week," said NightRide Thermal Founder and CEO Mary Ellen Kramer. "So, we're very proud to be part of a composite solution designed to enhance data flow for improved decision making and better operational performance intended to help police, fire and EMS officials return safely home to their families at the end of their shifts."
NightRide is an infrared-based camera system that empowers drivers to see beyond the range of regular headlights—seeing 1,800 feet and beyond, even on the darkest of nights. The cameras offer high-resolution thermal imaging and are purpose-built for mounting on standard cars, vans and trucks, as well as first responder vehicles for the public safety industry.
According to the National Highway Traffic Safety Administration, there are about 1 million car accidents with deer each year, which kill 200 Americans, cause more than 10,000 personal injuries, and result in $1 billion in vehicle damages.
The National Institute for Occupational Safety and Health states that motor vehicle-related incidents are a leading cause of preventable line-of-duty deaths for law enforcement officers in the United States. From 2011-2020, 454 officers died due to motor vehicle related accidents, which represents 33 percent of all line-of-duty deaths. It is important to promote motor vehicle safety among officers so they can stay safe while working to make communities safer. 
About NightRide Thermal
NightRide™ is the leading brand in vehicle-mounted thermal cameras, manufactured by NightRide Thermal LLC, a woman-owned small business located in New York. NightRide cameras offer high-resolution thermal imaging purpose-built for mounting on standard cars and first responder vehicles. Select models accommodate remote-controlled 360 pan/tilt capability to be paired with a laptop, tablet or phone for wireless heads-up display. All models include NightRide's rugged casing and intuitive controls to be ready to go wherever and whenever needed. NightRide's cameras are designed for the unique requirements of public safety, security professionals, hunters and outdoor sporting as well as every-day drivers. NightRide cameras are military-grade, built to order in the U.S., and rated for use in severe weather. To learn more, visit www.getnightride.com.